Humonstro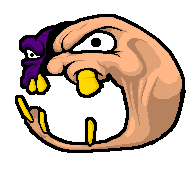 Base HP
300
Stage HP
0
Found In
300
Dropped Items
Skull
Created by
{{{creator}}}
Humonstro is a boss that can appear in any chapter.
Humonstro has got two phases.
Phase One
Edit
Humonstro punchs the player.
Phase Two
Edit
When Humonstro have 150 HP, starts the second phase. Humonstro separates the human part of his monster part.
The two sides quickly approach the player to hurt him.